Stainless steel lance with INOX male coupling
with moulded isolation grip. Outlet 1/4" male thread
MT3 290 mm: Art. No. 15-01-000
MT3 500 mm: Art. No. 15-01-005
MT3 700 mm: Art. No. 15-01-001
MT3 900 mm: Art. No. 15-01-002
MT3 1200 mm: Art. No. 15-01-003
MT3 2000 mm: Art. No. 15-01-004
Lance grip handle
For easy handling, especially with high pressure shocks. (May be installed retroactively).
Art. No. 15-01-200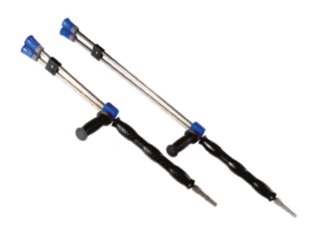 Stainless steel double lance with INOX male coupling
High quality stainless steel double lance with robust adjusting valve for stepless pressure regulation. This lance is the most technically sensible solution for adjusting the pressure with constant water flowrate. max 310 bar; max 36 l/min; max. 130°C
700 mm: Art. No. 15-01-020
1000 mm: Art. No. 15-01-021
High pressure foaming lance
With male coupling for rapid exchange at the trigger pistol with 2-litre container
SI10: Art. No. 15-18-240
Feed bowl cleaner
2-metre lance with PVC protective cup to easily clean feed bowls. Suitable for low pressure and high pressure applications.
Art. No. 15-18-352